Yes, the 16th Annual Brainwash Drive-in Bike-in Walk-in Movie Festival is almost upon us!
I'll bet you didn't know that the New York Times says the Brainwash Movie Festival is "pirating a piece of that old Hollywood magic and challenging conventions on the role of public space in the process."
Funny, because Brainwash organizers say, "We project movies onto a tarp in a parking lot in Oakland."
Brainwash features a great mix of new movies from the Bay Area and all over the world, featuring dark humor, animation, mockumentaries, and much more. See http://www.brainwashm.com/festival/2010-festival/ for this year's full program.
What's a Drive-in Bike-in Walk-in Movie Festival? It's set up like a traditional drive-in with FM sound as well as two big amps. Arrive however you choose: drive, bike, or walk in, perhaps with your favorite chair or blanket. West Oakland BART is one block away.
The festival will be held Saturday, August 7th, Friday, August 13th, and Saturday, August 14th (9:00 p.m. each night) at the Mandela Village Arts Center at 1357 5th St in Oakland.
Admission is just $10, or a $40 Festival Pass gets two people into all three nights of the festival. Tickets are available at http://www.ticketweb.com/snl/EventListings.action?orgId=16986 or at the gate. More about Brainwash.
Also, I'd be glad if you wanted to post one of these lovely banner ads (below and in the sidebar) on your own site. Somehow that seems unlikely, but you never know.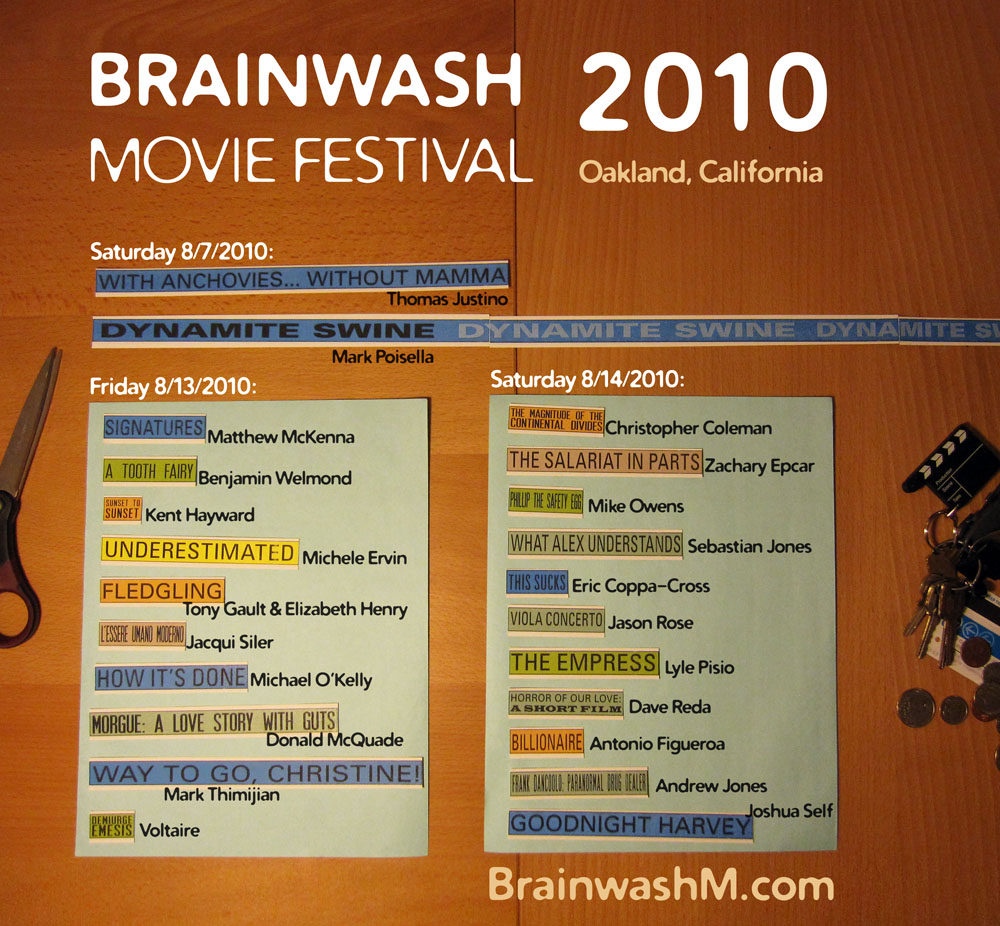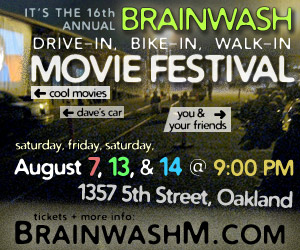 This tab has been open in my browser at work since July 11th, because I've been meaning to finish reading this article and posting it, but I just haven't gotten to it.
From "How facts backfire" in The Boston Globe:
[W]e often base our opinions on our beliefs, which can have an uneasy relationship with facts. And rather than facts driving beliefs, our beliefs can dictate the facts we chose to accept. They can cause us to twist facts so they fit better with our preconceived notions. Worst of all, they can lead us to uncritically accept bad information just because it reinforces our beliefs. This reinforcement makes us more confident we're right, and even less likely to listen to any new information. And then we vote.
This dovetails with what Drew Westen was saying when I first saw him at Netroots Nation in 2007, and — going back a few years — George Lakoff's work on frames.
This being an unfinished thought, I guess I shouldn't feel too much pressure to come up with some kind of pithy conclusion (beyond this pointless sentence).