Gotta love this vote of confidence in our governments (from the readers of this article at CNN.com):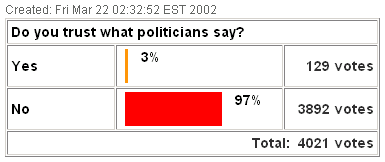 I, for one, am not surprised.

I think that Memepool linked to this anti-war site sarcastically, but I think it's really powerful.

100 things not to do in Milwaukee brings me back to my childhood, but not as much as 100 Milwaukee memories.

I can't believe I read the whole thing: Someone has reviewed Radiohead's brilliant album Amnesiac song by song. His review is a nice example of what the web can do and a damn interesting read. Start with the first song and access the rest from his archive page. It helps if you're listening to the album while you're reading it. (It really helps if you have it and Kid A in your MP3 library.)