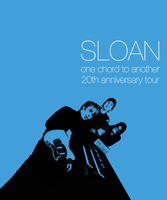 I am very excited for An Evening with SLOAN: the One Chord to Another 20th Anniversary Tour, coming up April 26th at the Rickshaw Stop here in San Francisco. [This was AWESOME, by the way. – JLG, 5/9/16] Most of my past Sloan concert experiences, with a couple notable exceptions, have been solo affairs; this time, happily, I will share it with my friend Chris (to whom I introduced the music of Sloan about 8 years ago by now). Tickets are on sale now for all you Canucks and Canuckophiles out there.
According to Exclaim.ca, your best source for the Canadian music news you crave, "Sloan will play two sets a night, with a full-album performance of One Chord to Another preceding a more general set of 'hits and fan favourites.'" They played two sets behind their latest album, Commonwealth (a double album), at Rickshaw Stop a little over a year ago, and it was amazing.
As for One Chord to Another (a.k.a. "OCTA"), it has a special place in my heart for many reasons. It was my first Sloan CD, acquired at a record store on St. Mark's Place over spring break 1997, visiting my childhood best friend Will during his sweet gig as an RA at NYU. I remember listening to it on my Discman on the Gray Line bus on the way back from NYC to Ithaca. In a classic college thing, I'd gotten a ride from Madison to Ithaca and back with a friend I knew from Model UN and a couple of her friends, and the bus from Ithaca was super cheap.
Discmans, the Gray Line from NYC to Ithaca, record stores on St. Mark's — they are all gone, but Sloan is still together, and at that moment that was unthinkable. Sloan had reportedly recorded OCTA separately and broken up. That was it. Sloan, 1991-1996. Then in 1998 I saw Navy Blues on the shelf at Best Buy or something and I was floored, happy, excited. Thus began an obsession.
In 2001 I made a long-weekend pilgrimage to, well, the other side of the Midwest to see Sloan with Will in both Detroit and Cleveland, the aforementioned notable exceptions. (I made a subdomain for it, for goodness sake.) For that walk down memory lane, read my review.
Ever since, as Dawn and others know quite well, I have followed them faithfully. (If it feels good, do it. So far, so good.) I have seen them in five states, at the Metro in Chicago, the 500 Bar in Minneapolis, Peabody's Down Under in Cleveland, the then-called State Theater in Detroit, and the Independent, Cafe du Nord, Slim's, and the Rickshaw Stop in San Francisco. I have missed a show here and there in the Bay Area, but I think that can be excused.