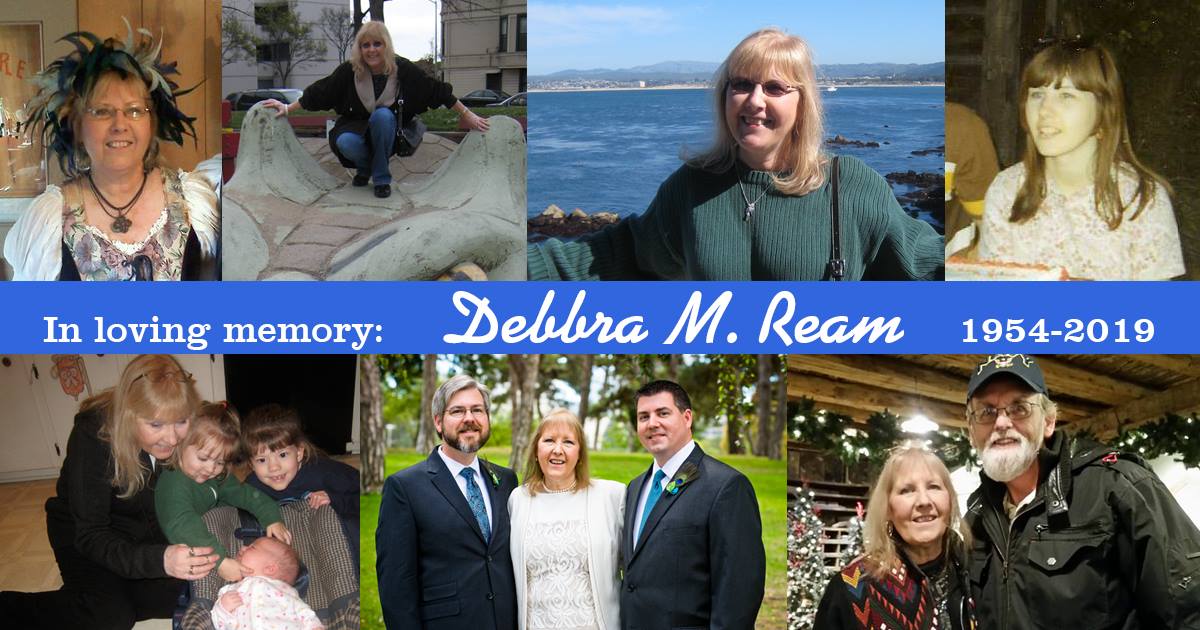 Below is the obituary I wrote for my mom. It will be published in some form in Hartford, Wisconsin; Milwaukee, Wisconsin; and Monroe, Michigan, the three places she lived in her 64 years.
I have not publicly shared any account of her struggle with memory loss until now, in order to respect her privacy. It was a complicated thing to be at least partially responsible for. My brother Jared and I had talked in recent months about how to share the news of her dementia with relatives and friends (some of whom had figured it out for themselves, and undoubtedly more than I had realized). That question is now largely moot.
I miss her more than I can describe. Anyone who had spent significant time with her in the last few years will understand what I mean when I say I had begun to miss her several years ago. She was still so much of herself to the end—luckily her personality hadn't changed much, if at all—but her lost independence, which meant so much to her, broke my heart. She was also the one who did so much to hold our extended family together: making phone calls, keeping her address book current, staying active on social media and texting, and sending cards and letters at every birthday and many holidays. Sadly, her ability to keep up with that gradually faded, even before her memory issues were really evident to those of us closest to her. I have so much more to say about the wonderful, amazing ways in which I am who I am because of my mom. She was an extraordinary person who had an effect on everyone she met, she was an amazing storyteller and writer, and her capacity for love and trust given what I understand of some of her early experiences was nothing short of miraculous. I love and miss her with all my heart.
Please join friends and family at Suminski / Weiss Funeral Home, 1901 N. Farwell Avenue, Milwaukee, WI 53202 on Saturday, February 16, 2019. Visitation will begin at 12:00 noon and her Celebration of Life will begin at 2:00 pm.
Debbra M. Ream, May 28, 1954 – February 6, 2019
After several years of illness resulting from vascular dementia, diabetes, and other ailments, Debbra M. Ream, age 64, of Hartford, WI found peace on February 6, 2019. Deb, born Debbra Marguerite Williamson in Monroe, MI on May 28, 1954, was an artist, a published poet, a lover of animals, a fan of travel and history, a beloved wife, mother, sister, aunt, grandmother, niece, cousin, and friend, and a delight to all who met her.
She passed away while holding hands with her beloved husband of more than 30 years, Richard Dale Ream. She and Richard were inseparable in the last few years after he retired and became her full-time caregiver in 2016. They shared many adventures in life, including trips to Vancouver, California, Brazil, and the Bahamas, many visits to the Bristol Renaissance Festival, and others too numerous to count.
In addition to Richard, she is survived by her two deeply treasured sons, of whom she was indescribably proud: Jason Lee Gohlke (and daughter-in-law Dawn Lawhon) of San Francisco, and Jared Martin Gohlke (and fiancée Stacy Austen) of Kannapolis, NC.
She is survived by more relatives and friends than one could count: granddaughters Nora Ruth Gohlke, Emily James Gohlke, and Susan Louise Gohlke, stepson Keith Ream, stepdaughters Carrie Bristoll-Groll (Tony Groll) and Danielle Bristoll McNeil (Patrick McNeil), aunts Josephine Bushroe, Marjorie Calkins, and Violet Barton, sisters Sally (Richard) Venia, Lori Theisen, and Violet Williamson Bellair (husband Ed Bellair), brother Floyd T. Williamson Jr., sisters-in-law Sandy (husband Rod) Wallner, Barbara Ream, and Alice Ream, brothers-in-law Ken Ream and Ed Ream, nieces and nephews including Maris (husband Eric) Miller, Elise Venia (husband Scott Varty), Noelle (husband Ryan) Fragner, Todd Knabusch, Lance Theisen, Olivia Dawn Williamson, Christopher Williamson, Jacob Houston, Michelle Ream, Janell Ream, Janette Ream, Jillian Schroeder, Wayne Ream, Heather Ream, Michael Ream, stepgranddaughters Stephanie, Brenna, Kiera, stepgrandsons Jesse, Zach, Harlan, Tristan, cousins too numerous to name, and many friends from every stage in her life.
She was preceded in death by her sister Sharon, her beloved mother Marguerite, father Floyd, and beloved grandparents Edna and Garold Bosenbark, who were a great influence and comfort to her while growing up, and many other friends and relatives.
Growing up in Monroe, Michigan, Debbie was a tomboy and a free spirit. When she was eight, she lost her younger sister Sharon to childhood diabetes, which affected her greatly. Deb moved to Milwaukee, Wisconsin in 1972 to attend Patricia Stevens Career College, which she was fond of describing as a "glorified charm school." During her first days in Milwaukee, she overcame the death of her grandfather, who had frequently taken her fishing and been a strong influence in her life. She also beat uterine cancer. She was married to Jeffrey L. Gohlke from 1974 to 1984, and having her two sons during that time was the pride of her life. Deb's mother Marguerite was a confidante and friend as well as a talented artist, and her untimely passing in 1984 affected Deb for the rest of her life. Deb married Richard in 1988, after which they moved to Hartford, Wisconsin. She took great pride in her home and impressed many with her eclectic, fun, and unique interior decoration style. She enjoyed painting and turned her LP tank into a Yellow Submarine. She also wrote poetry throughout her life and published poems such as "The Old Man with the Hop," a poem she wrote for her son Jared.
Deb was a frequent reader of novels and a particular fan of Stephen King. She was an activist and a donor for a number of causes, including the environment and the protection of animals. She loved music of all kinds, especially pop music from the sixties to the present, and world music. She was a lover of animals, especially elephants and owls. She had many beloved pets throughout her life, including several cats that were her devoted companions, including Max, Macintosh, Rio I and II, and Frisco. She loved to tell stories over coffee and cigarettes, she enjoyed meeting new people and making friends wherever she went, and she brought joy, laughter, and love to so many.
In lieu of flowers, please make a donation in her memory to one of the following organizations:
Family and friends will gather at the Suminski / Weiss Funeral Home, 1901 N. Farwell Avenue, Milwaukee, WI 53202 on Saturday, February 16, 2019 from 12:00 Noon until the time of the Memorial Service at 2:00 PM. More info: https://www.lifestorynet.com/obituaries/debbra-ream.125891